US MAC's Peter Darling in agreement-signing ceremony with top officials with the Polish government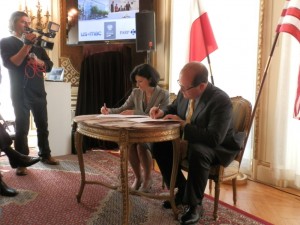 Peter Darling, Senior Vice-President and Director of the US MAC, recently traveled to New York to take the first step in launching a new working relationship with an important European country: Poland.
At a signing ceremony at the Polish Consulate on September 27, Peter signed two Memorandums of Understanding outlining the framework for a long term relationship between the US MAC and the Polish Ministry of Economy and the Polish Agency for Enterprise Development (PARP). The documents were cosigned by Ilona Antoniszyn-Klik, Undersecretary of State for the Ministry of Economy, on behalf of the Ministry, and Mrs. Bozena Lublinska-Kasprzak, CEO of PARP. The signing ceremony, which was extensively covered in the Polish press, was also attended by Bronisław Komorowski, current President of the Republic of Poland and Ryszard Schnepf, Ambassador of Poland to the United States.
In addition to signing the agreements, the Ministry of Economy also signed a one-year lease for an office suite at the US MAC, which will be a soft landing zone and headquarters for Polish technology companies entering Silicon Valley.