It's World Cup time – think you're up for the challenge?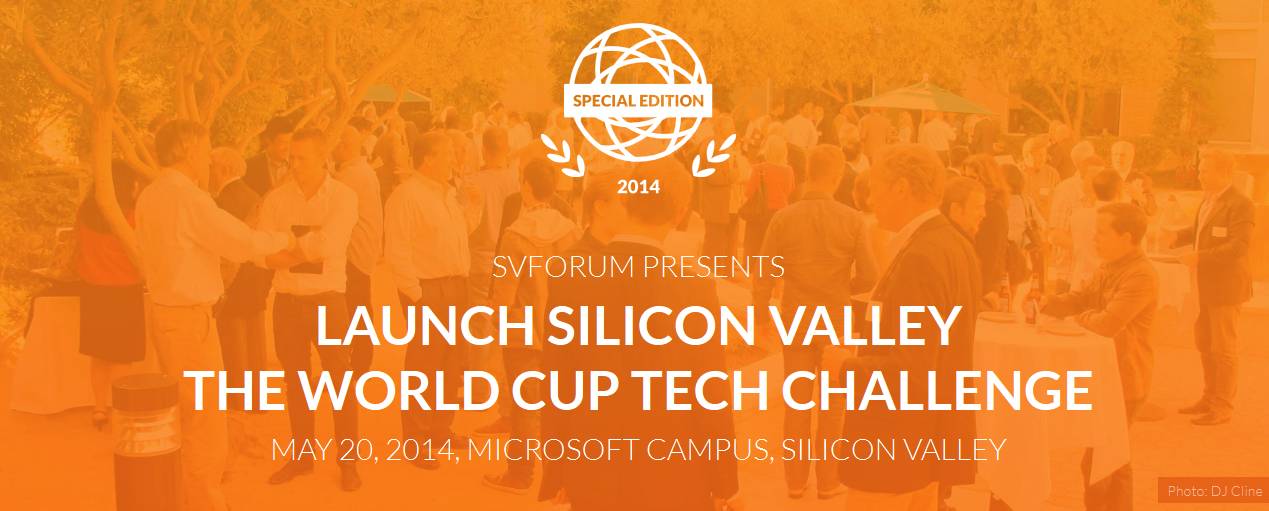 Apply now to represent your startup – and your country – at Launch: Silicon Valley May 20th!
About:
For the last 8 years, Launch: Silicon Valley has been a premier product launch platform for startups from around the world. Presented by SVForum and hosted by Microsoft at their Mountain View Campus in Silicon Valley, the event provides the next generation of emerging technology companies with the opportunity to present their products to, and network with, an audience of over 500 of Silicon Valley's top VCs, Angels, corporate executives, prospective customers and partners, bloggers and media.
During the past 8 years, companies like Kongregate (acquired by GameStop), Bugcrowd, Onfarm, Triggit, Intelen, Jaxtr, Origami, Yodio, Truemors (acquired by NowPublic), Data Robotics, E3 Clean Technologies, TenCube (acquired by McAfee), Appbackr and over 200 other startups leveraged SVForum's annual Launch: Silicon Valley event to launch their products, raising over $200M in venture capital, securing customers and partners along the way.
This year's Launch: Silicon Valley will have a special World Cup Tech Challenge edition– check out the whole story on the new website here www.launchsiliconvalley.org. We'd like to invite your startup to apply–if chosen, you will qualify to one of the 5 available launch spots within each of 6 different tech categories or as we call them Groups :
1.       Digital Media
2.       HealthTech
3.       FinTech
4.       Next Gen Technology
5.       EdTech
6.       Enterprise Software
(the icons for each attached if you want to use them)
How to apply:
Please fill out all boxes in the application form online and upload an Executive Summary of no more than two pages together with a 2 min video-pitch (video-pitch is optional but will be required if you qualify, and used in the online voting process), submitted no later than March 31st. The 30 qualified startups will be announced by April 10th. The application criteria and process can be found here.
Criteria
Startups that apply must have a product or service available as of May 20th, 2014, but not introduced in the Global marketplace for more than a few months prior to the event. Executive Summaries and video pitches will be evaluated by a board of judges within the different tech categories. Not sure if your company fulfills the criteria, ask us by sending an email to launch@svforum.org.
The qualified startups within the different tech categories (Groups) will be invited to attend Launch: Silicon Valley, to demo in the expo hall and present on stage for 4-minutes, followed by 5 minutes of Q&A and constructive feedback, from a panel of top Silicon Valley investors. The startup "most likely to succeed" will be selected by votes from the panel, audience as well as points from the online voting, in each of the 6 Groups. The winners will take home great prizes sponsored by the Group sponsors as well as one-on-one meetings with VC´s and corporate executives in Silicon Valley.
Startups from all over the world will be competing for a spot at Launch: Silicon Valley 2014 – The World Cup Tech Challenge, and we wish you the best of luck! tourabe cameroon albania . language translator